The King Forged Tec Irons for 2022 are the fourth generation of King Forged golf irons that Cobra has created, and with this year's design, there have been significant improvements made to ensure that golfers have a golf club that can generate brilliant distance and accuracy while providing incredible feel and control through in their golf swing.
The 2022 iteration of this golf club comes in three different variations with the Forged Tec and Forged Tec ONE Length designs being created to offer golfers a player-distance iron using a fully forged design, while the Forged Tec X variation has been created to be more of a players game improvement shape that offers much more forgivenesss.
But what makes each one of these golf clubs different and what performance can you expect when using them? Well…
Cobra King Forged Tec Golf Irons – Steel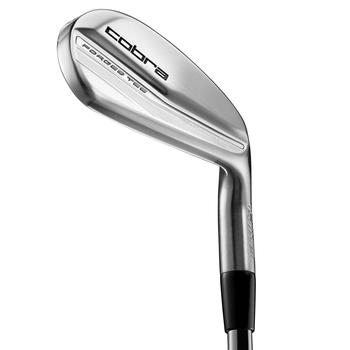 Both the Forged Tec and ONE Length versions of these irons use the same clubhead design and forgiving construction to provide players with a golf club that is able to generate incredible distance on shots while still offering pinpoint accuracy so that long approach plays can be made consistently without having to worry about the golf ball spraying around the golf course.
Premium materials have been used when creating the Cobra irons as part of a new 5-step forging technique so that the designers at Cobra are able to create a much more precise head shape. The precise clubhead shape has been used to create a set of irons which are perfect for great ball strikers, looking for added distance, and enough forgiveness to make up for any mishits.
All three clubs in the King Forged Tec family use a forged PWERSHELL face which works to maximise the amount of speed and launch that can be created when a golf ball comes off the face of the club. The performance has been paired with tungsten weighing (20g for the Forged Tec and ONE LENGTH options) placed in the head of the golf club to create a centre of gravity that allows for greater performance when a golf ball hits the sweet spot of the clubface, while also providing stability when some shots are mis-hit and played off the centre of the face.
Cobra King Forged Tec One Length Golf Irons – Steel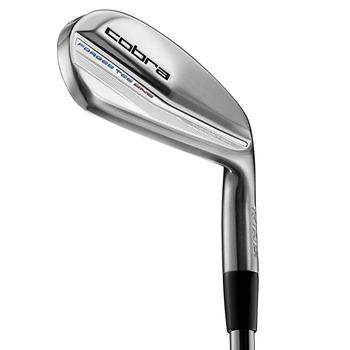 Cobra has also introduced ONE LENGTH configuration so that golfers can experience the consitent weight and length of a 7-iron for each iron in the bag.
Using this configuration allows golfers to play with a set of golf clubs that provide much more consistency and repeatability of their golf swing so that when a player creates more centred contact on the clubface for increased accuracy and power on shots, it can be easily duplicated throughout every golf club so that you don't need to change your form and possibly negatively affect your golf swing. By using the Cobra ONE Length design these golf irons achieve the optimal distance and gapping between each club so that you have irons that are suited for every shot needed.
Cobra King Forged Tec X Golf Irons – Steel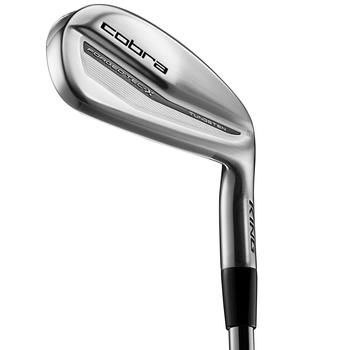 The idea of using forged golf irons can be daunting for many golfers who are fairly new or are high-handicappers, but Cobra has created the Forged Tec X irons that offer players a forged-like feel in the ultimate players' game improvement irons.
The Forged Tec X irons are a much more forgiving option for golfers who are mid to high handicappers who are looking for a set of irons that are able to generate brilliant distance while still being incredibly accurate.
Cobra has achieved this performance by engineering these golf irons to feature a hollow body design that has been used to allow space for a soft foam that has been made lighter to promote faster swing speeds and greater distance while maintaining a great feel and sound.
Also used in the design to make it much easier for higher handicap players to really get the golf ball up in the air for longer approach shots, Cobra has placed within this hollow body cavity is 65g of tungsten weighing (45g more than the Forged Tec and ONE LENGTH variations) which has lowered the centre of gravity of the golf club and maximises the stability of these golf clubs to promote higher launch despite stronger lofts.
The King Forged Tec X irons are the perfect game improvement golf clubs that allow for brilliant distance and control to be created consistently on the golf course. These golf clubs are the ultimate combination of enhanced shaping, forged-like feel and extreme forgiveness that are perfect for mid to high handicap golfers to achieve greater performance on the golf course with greater distance and precision for better shots approaching the greens.